About Us
Welcome to JONO & JOHNO, one of Australia's largest online suppliers of chainsaw chains, bars and after market spare parts

Hurricane Chain is produced exclusively for Jono & Johno. Our factory sources the steel from The Buderus Company in Germany. Buderus specialises in high-grade steel and heating technologies. Jono & Johno has spent several years developing Hurricane Chain in their Chinese sister factory, with the third revision released in October 2014.Hurricane chainsaw chain has undergone hardening techniques to increase the cutting life of the chain and the factory has implemented design changes to optimise oil distribution and reduce stretching during prolonged periods of cutting.Hurricane Chainsaw Chain is available in 100 foot and 25 foot rolls and is also sold in pre-made loops to suit any length bar.
Hurricane Chain is now rated alongside current market leaders for quality saw chain in Australia.
---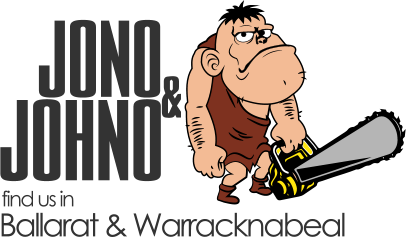 Jono & Johno began operating in the rural town of Warracknabeal in 2008. In 2011 we moved to Ballarat in the Central Highlands and have since gone on to become one of the leading online suppliers in chainsaw equipment, power machinery and spare parts. We pride ourselves on our product knowledge and on our unbeatable customer service. Jono & Johno is proudly Australian owned and operated. If you would like to view any of our products you can drop into our showroom at 31 Carngham Road, Delacombe (Ballarat) or visit our newest store located at 61 Scott St, Warracknabeal. Our friendly and knowledgeable staff will be happy to assist you with any product advice you may require.
Jono & Johno Ballarat
Telephone:
(03) 5303 0264
Email:
sales@jonoandjohno.com.au
Address:
31 Carngham Road, Delacombe, VIC, 3356

Jono & Johno Warracknabeal
*Please don't contact our Warracknabeal store for web enquires.
Telephone:
(03) 5394 1020
Email:
warrack@jonoandjohno.com.au
Address:
61 Scott St, Warracknabeal, VIC, 3393